Profile
THE BACKGROUND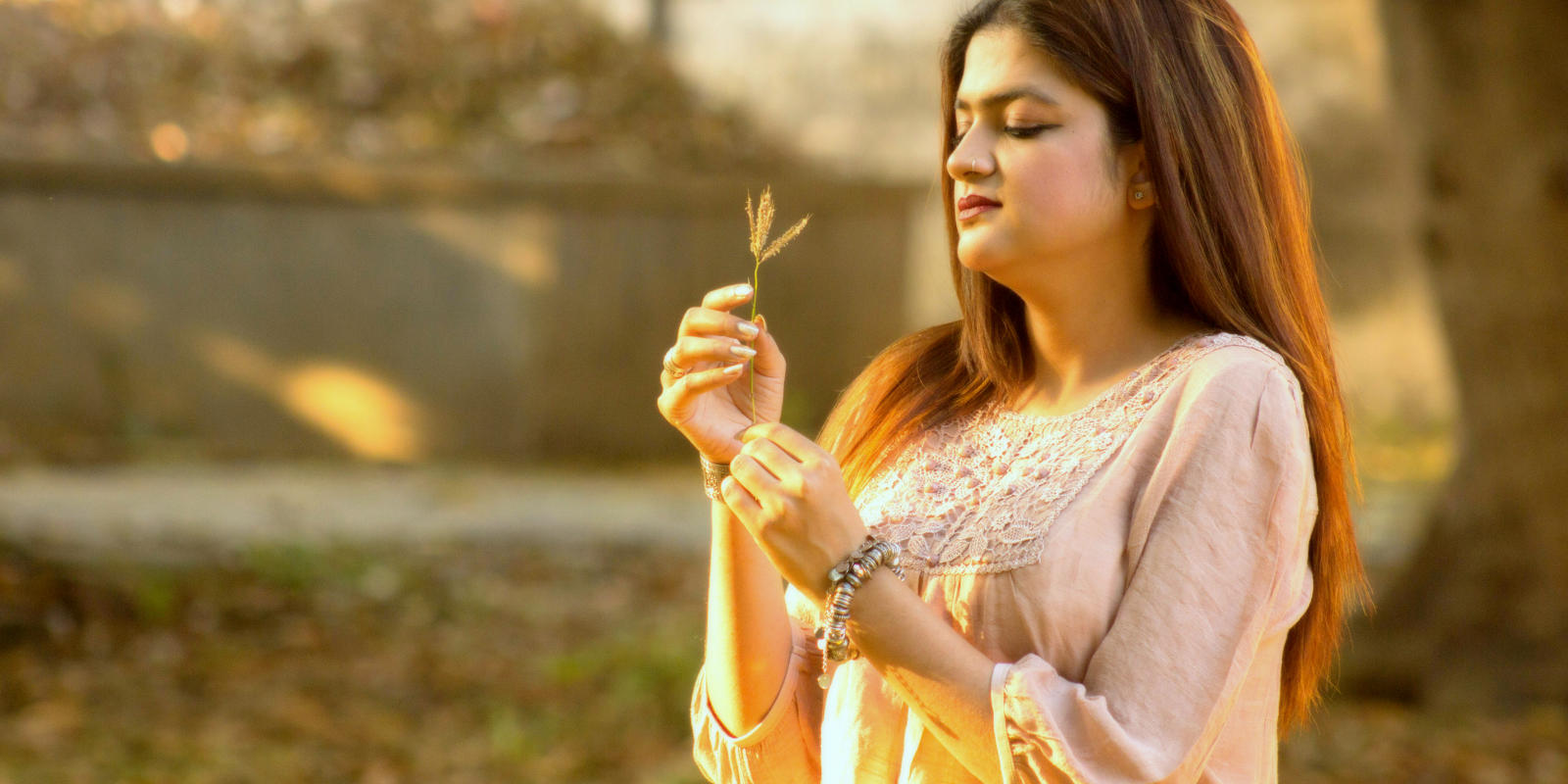 Roohee hails from a family that traces its origin to the classical age of India's prolific heritage. Born in 1st October 1984, Roohee is the granddaughter of Padmashree Sarangi Nawaz Ustad Shakoor Khansaheb from her father's side and of Ustad Niaz Ahmed Khansaheb from her mother's side. Her father is Ustad Mashkoor Ali Khansahab, who is the scion and the greatest vocalist of the present day Kirana Gharana. Roohee has music in her blood and music flows unabated through all manifestations in her life. Inspite of having a pitch perfect voice, Roohee chose the fingers of her hands to express the music in her. In her hands, the painting brushes become her Tanpuras and her imaginations and thoughts spring to life with the delicate touch of her brushes and pencils. The stage for Roohee is the white canvas and her Ragas are the images. (Ragas mean colour anyway).
HER COLOURS AND BRUSHES…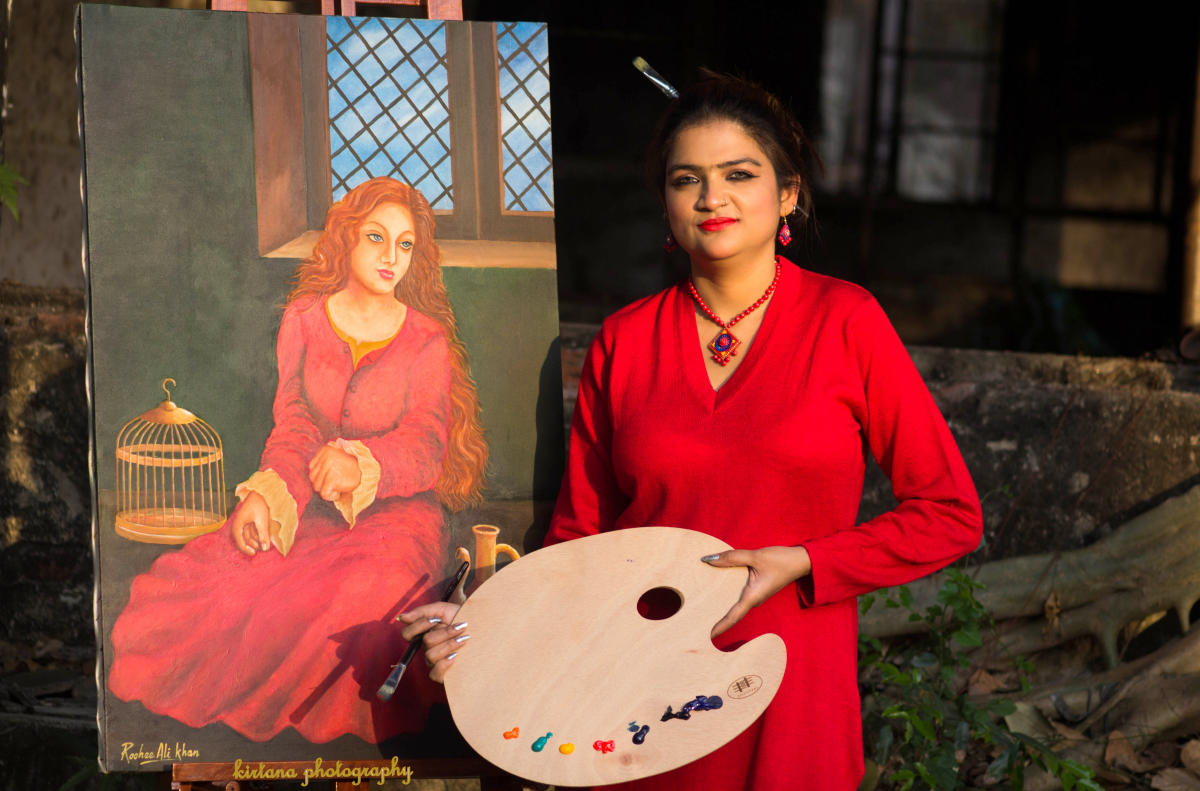 "Paintings came to me right from my childhood quite effortlessly", says Roohee. "I had always dreamed that I would be a painter someday and would hold exhibitions. The main reason was because I was growing up in an environment surrounded by nature and music. I was attracted to its beauty from early childhood. Moreover, I was constantly influenced by art in its different forms. However, I never considered taking formal lessons in painting or the fine arts. Possibly that is why my paintings are more spontaneous than pedagogical. I don't know to which school I belong to as per traditional definitions. I try to paint whatever flashes in my mind's eye. The many colours of the fleeting world around me, the times I have spent with myself, my imaginations, my longings and the melodies that incessantly resound in my home have all added colour to my paintings, and what they have emerged as, I myself do not know! All I know is that I have tried to speak through them, nothing too difficult or unintelligible, but very simple and fundamental emotions of our lives.
I firmly believe that each aspect of nature is a device of God! Each of them has a particular way of transmitting messages of the Supreme One. I try to be as much as possible, in harmony with them so that I can understand some of these messages. These little experiences and little messages are what I put on my canvas using my brushes and colours. If they speak to you too, then I will consider my work successful."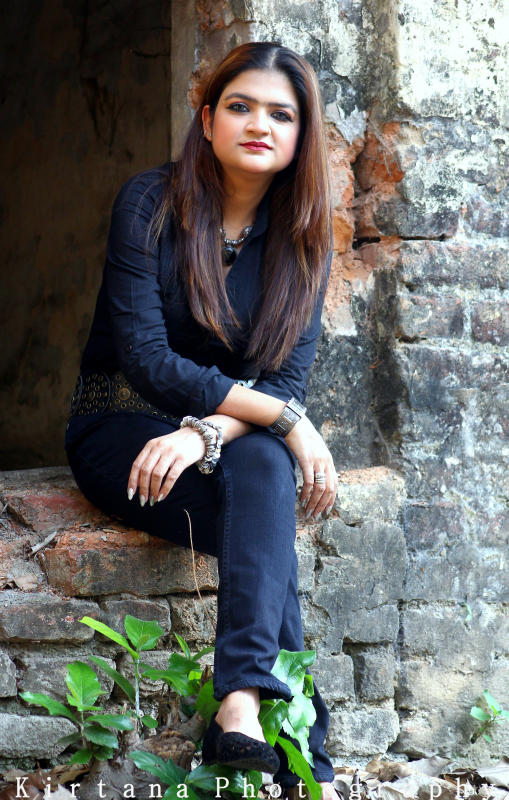 In this modern era, social issues such as murder, rape, poverty, theft, war, drug addictions and many are propagating like anything. Much words have been spent as a means to resolve these issues but to no avail. Most of my paintings, apart from their specific themes, also contain a general one which is humanity. One among my main goal is to use my paintings as a means to touch the heart of people so as to be able to resolve if not all, at least some of these issues.
For example, when we speak of poverty, the general thought is that these people do not have money. But these people are poor in terms of finance, happiness and peace of mind. We are so busy in our own life that we hardly notice what is actually in these people. My painting "Children in poverty" has attempted to show the sadness and the distress which ruin these people sleep. As such I try to highlight many major aspects which we fail to notice in our day to day life.
Furthermore, my paintings allow me to see beautiful smiles on people's face. From times to time, I paint artists' portraits and gift them. They are completely stunned and I get to capture lovely moments with them, that is, some beautiful moments of joy. Some of them are Ustad Zakir Hussain, Ustad Rashid Khan Sahab, Salim Khan ji, Salma Agha ji, Ustad Abdul Rashid Khan Sahab, Shafaq Amanat Ali Khan Sahab, Roop Kumar Rathodji & SunaliRathod, Hariharan-ji, Sajid-Wajid duo, Salman Khan ji, Rahul Roy ji, Raza Murad ji, Padmavibhushan Dr.Girija Devi and last but not the least the honourable PM of India, Shri Narendra Modi Ji. I take along with me not only joyous moments but also the thing which I am always thirsty for, blessings!" My maiden exhibition in Goa was a success and ever since I have been exhibiting my paintings in other cities of India like, Mumbai, Pune and Delhi. My contracted work for Casino Royal received huge success. Beyond India I have also had the honour of exhibiting in Dubai and Dhaka in September 2012.
WEB DESIGNING
Roohee has not stopped content with her blueblood. She is someone who never stops after having found the key of one door only. She always tries to keep on acquiring knowledge in every possible way. She has completed her school leaving from the ICSE board with very respectable marks and as known to many, then chose her brushes and paints as her lifetime companion. Alongside, Roohee has acquired extensive experience as a graphic designer. Her vigorous willingness to keep on learning has made her qualified to work on HTML, C++, Java scripts and Flash. Roohee has a number of prestigious web pages which she has designed and amongst them is that of her father, the very illustrious Ustad Mashkoor Ali Khan and also that of the very famous prodigy of the Kirana Gharana, Arshad Ali Khan.
Below are some of the web pages that she has designed:
OTHERS
The innate artist in Roohee is never at rest. In between all her activities regarding events, computer designing or managing all professional affairs of her father, Roohee finds time for singing, painting and photography. She indeed makes it a must to continue the legacy of the Kirana Gharana, as her grandfathers, Padmashree Sarangi Nawaz Ustad Shakoor Khan and Ustad Niaz Ahmed Khan and father Ustad Mashkoor Ali Khan have been doing. She had also been an anchor in a Ghazal Programme "Avshar" for Doordarshan Kolkata in the year 2005 And what's more, she actually had played back (sung) for a play, GauharJaan which was staged in Kolkata, in the heritage building of the Zamindars Chhatu Babu and Laatu Babu's house where her stalwart father was the lead singer. Furthermore, along with Suhel Rais Khan, Roohee had launched an album entitled New Generations of Music. The album was released by Times Music.
Another rare talent in Roohee is her passion for the tyres, gears and roads! Yes, she loves her car and driving. During her free time, Roohee usually goes for long drives! No wonder why she is always so jolly.
Roohee Ali Khan
Website: www.roohee.in | Email: rooheealikhan@gmail.com